All Speakers
Fareed Zakaria
Tuesday Keynote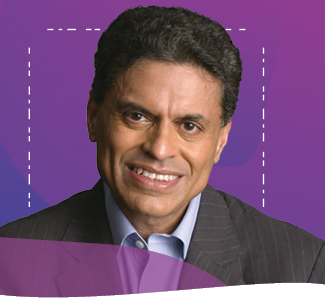 Navigating the Forces of Global Disruption
From the volatility of the financial markets to the innovation trends impacting the future of work, treasury and finance leaders must be prepared to navigate a rapidly changing, complex landscape. CNN Worldwide's Fareed Zakaria delivers up to the minute insights on the latest issues playing out on the world stage. Drawing on his conversations with the top political, business, and intellectual leaders of our time, Fareed provides powerful insights into the geopolitical and economic risks impacting you, your organization, and the global economy.
Bio
Host, Fareed Zakaria GPS and Author
Fareed Zakaria hosts Fareed Zakaria GPS for CNN Worldwide and is a columnist for The Washington Post, a contributing editor for The Atlantic, and a bestselling author. Since its debut in 2008, Fareed Zakaria GPS has become a prominent television forum for global newsmakers that includes interviews with leaders and dignitaries such as President Barack Obama, Goldman Sachs CEO Lloyd Blankfein and Pepsi CEO Indra Nooyi to name a few. The program earned the prestigious Peabody Award in 2011 and an Emmy® Award nomination in 2013. He frequently contributes analysis of world events and public affairs to CNN.com; Fareed's Global Briefing, a daily digital newsletter; and other programming across CNN's multiple platforms. Prior to his tenure at CNN Worldwide, Fareed was editor of Newsweek International, managing editor of Foreign Affairs, a columnist for Time, an analyst for ABC News, and the host of Foreign Exchange with Fareed Zakaria on PBS.