All Speakers
Neil Pasricha
Monday Executive Institute Luncheon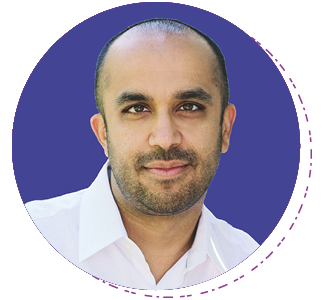 The Science of a Positive Growth Mindset
Does great work lead to happiness? Or does happiness lead to great work? Neil Pasricha shares counterintuitive research-based answers in this fast-paced, research-grounded tour of the emerging neuroscience and positive psychology landscape. Based on his research, the latest information in neuroscience and positive psychology, and his experience developing global executive development programs, Neil presents attendees with a framework for driving both creativity and productivity among their teams and throughout their organizations.
Bio
Author, The Happiness Equation
After graduating from Harvard Business School, Neil Pasricha spent a decade as Director of Leadership at Walmart, the world's largest company. While there he wrote the 50-million-hit, award-winning blog 1000 Awesome Things and the New York Times bestsellers The Book of Awesome and The Happiness Equation which have been on international bestseller lists for over 200 weeks and sold over a million copies. Neil's research and books on happiness, mindset, and human potential have received attention from Harvard Business Review, The New Yorker, The Sunday Times, CNN, and BBC.
Access to the Executive Institute Luncheon is restricted to senior-level corporate practitioners. The Executive Institute Luncheon does not require registration and is first come, first serve.

The Monday Executive Institute Luncheon is sponsored by: