All Speakers
Peyton Manning
Tuesday Keynote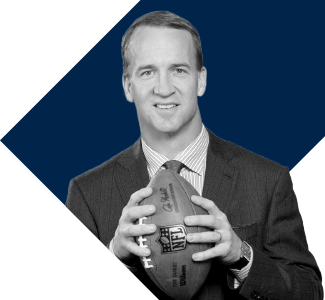 Beyond the Huddle
Peyton Manning is a gifted leader who understands how to successfully build teams, develop strategy and overcome adversity. He shares real-world leadership tips on how you too can become a winner by adapting to changing circumstances. Peyton uses his unique perspective as a legendary professional athlete and philanthropist to share insights on creating a winning team culture and leading with passion.


After his keynote, Manning will be available for a photo-op at the AFP Membership Center in Booth 633.
Bio
Two-Time Super Bowl-Winning Quarterback & Five-Time NFL MVP
Legendary quarterback Peyton Manning, the NFL's only five-time Most Valuable Player and a 14-time Pro Bowl selection, has earned his place among the greatest quarterbacks in league history as a leader in nearly every statistical passing category.
Peyton entered the NFL in 1998 with the Indianapolis Colts as the first overall draft pick. With the
Colts, he amassed the most career touchdown passes in league history, was named a first-team All-Pro selection by the Associated Press on seven occasions, and in 2013, Peyton was named Sportsman of the Year by Sports Illustrated. He led the franchise to its first World Championship in 36 years during the 2006 season, earning MVP honors.
During the 2015/2016 season, Peyton led the Denver Broncos to a 24-10 win in Super Bowl 50, making him the first starting quarterback in NFL history to win a Super Bowl with two different teams.
During his time at the University of Tennessee, he claimed 43 records at the school, conference and national levels while graduating with Phi Beta Kappa honors. He led Tennessee to an SEC Championship as a senior in 1997 and earned consensus All-America honors.
Peyton has continued his efforts off the field and serves as a member of the American Red Cross National Celebrity Cabinet and The Pat Summit Foundation Advisory Board. He and his wife, Ashley, established the PeyBack Foundation in 1999 to promote the future success of disadvantaged youth by assisting programs that provide leadership and growth opportunities for children at risk. Peyton continues to maintain a strong relationship with St. Vincent's Children's Hospital (Indianapolis), which in 2007 was renamed the "Peyton Manning Children's Hospital at St. Vincent."