All Speakers
Shaquille O'Neal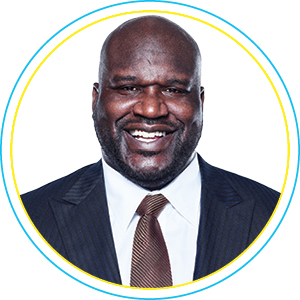 Shaq-isms for Business & Life
NBA Hall of Famer, 15-Time NBA All-Star Player, entrepreneur, investor, philanthropist, and true cultural icon, Shaquille O'Neal brings his inspiring story to life in this dynamic conversation. As an athlete and business leader, Shaq has proven that believing and investing in yourself yields positive results. Chock-full of empowering lessons on leadership and personal anecdotes, Shaq shares actionable insights into being resilient, fostering collaboration, committing to life-long learning and his decision-making process for netting high-impact business outcomes.
Bio
NBA Hall of Famer, Media Personality, Entrepreneur and Philanthropist

Few individuals ever become iconic enough to be known by one name—Shaq. Shaquille O'Neal is best known for an NBA career spanning nearly two decades and earning him the sport's highest honors, including membership in the NBA Hall of Fame. The four-time NBA Champion isn't only a legendary athlete; - he has also established himself as a powerful media personality and businessman over the years. Shaq is ranked among ''The 100 Most Creative People in Business'' by Fast Company magazine and in addition to being an early investor in companies such as Google, he has managed an increasingly robust personal brand that includes television shows, a shoe line and social media/tech products.