MindShift Keynote

AFP 2018's MindShift Keynote features Nancy Giordano and Mike Walsh, two visionaries who share their insights into key advancements in artificial intelligence, robotics, and augmented reality impacting organizations of all sizes. Following these dynamic presentations, CNBC's Senior Analyst and Financial Industry Expert Ron Insana moderates an in depth discussion focused on how these innovations are impacting the treasury and finance professions.
How Technology, Demographics and Values Are Disrupting the Future of Work
Artificial Intelligence, Robotics, and Virtual and Augmented Reality are increasingly making certain job functions obsolete and the treasury and finance industries are not immune. These disruptive technologies are changing the nature of work, and how companies will need to operate in the future. Strategic futurist, Nancy Giordano, delves into both the advancing technologies and the critical shifts companies and the workforce must confront to stay relevant in the future.


Nancy Giordano
Founder,
Play Big Inc.
Executive Producer,
Gigaom Change
Reinventing Leadership for the Age of Machine Intelligence
We live in an age of wonder – cars that drive themselves, platforms that anticipate our needs, and robots capable of everything from advanced manufacturing to complex surgery. Automation, algorithms and AI are transforming not only business, but every facet of daily life. While many fear that robots will take their jobs, the rise of machine intelligence begs a more important question: what is the true potential of human intelligence in the 21st century? Mike Walsh, futurist and author of "The Dictionary Of Dangerous Ideas" presents a vivid portrait of a brave new world orchestrated by machines that think, and how tomorrow's leaders must adapt to survive and thrive in an age of accelerating technology.


Mike Walsh
CEO,
Tomorrow
Author,
The Dictionary Of Dangerous Ideas
and
FUTURETAINMENT
Moderator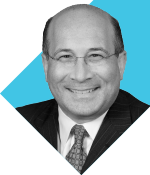 Ron Insana
Senior Analyst, CNBC
Financial Industry Expert
Ron Insana is a contributor to CNBC and MSNBC, where he discusses the most pressing economic and market issues of the day. He also delivers The Market Scoreboard Report to radio stations around the country. For nearly three decades, Ron has been a highly respected business journalist and money manager, who began his career at the Financial News Network in 1984 and joined CNBC when FNN and CNBC merged in 1991. He was named one of the "Top 100 Business News Journalists of the 20th Century" and was nominated for a news and documentary Emmy for his role in NBC's coverage of 9/11. Ron is the editor of "Insana's market Intelligence," a subscription-based newsletter, authored four books on Wall Street and is a highly regarded lecturer on domestic and global economics, financial markets and economic policy issues.
The MindShift Keynote is sponsored by Capital One.