Spotlight Keynote
Hamza Khan
Author, Leadership, Reinvented & The Burnout Gamble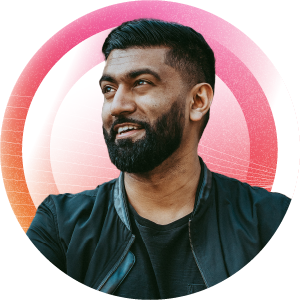 Ideas into Action: Defeat Procrastination & Unlock Breakthrough Productivity
Disengaged employees cost the world $7.8 trillion annually in lost productivity and the misalignment between an employee's and an organization's values accounts for the lion's share of this disconnect. However, with a strong sense of shared purpose, employees are more likely to stay focused, energized, and committed to their work, even when challenged to do more with less. In this dynamic keynote, attendees receive action-oriented insights, highlighting real-world best practices for reclaiming & optimizing productivity, while learning how to separate fatigue from depletion, reframe stressors and synchronize personal and organizational objectives. With the right tools and methods, treasury and finance professionals can strategically pair purpose and productivity to better support transforming ideas into action.
Bio
Hamza Khan is a bestselling author, and global keynote speaker who shares actionable insights on resilience, productivity, and leadership to help people and organizations thrive in the future of work. Through his consulting, writing, teaching, and speaking, Khan empowers people and businesses to transform ideas into action. His clients have included some of the world's most dynamic companies and organizations, including PepsiCo, LinkedIn, Deloitte, PwC, Trivago, and over 100 colleges, and his insights have been featured by notable media outlets such as VICE, Business Insider, and The Globe and Mail.
Learn more about Hamza and follow him on LinkedIn, Facebook, Twitter, Instagram, and TikTok.


---