By George Hoffman, PNC Bank
Should you learn a new language? Many payments experts are!
ISO 20022 represents one of the biggest changes to the payments industry in recent memory. It brings uniformity, expanded information and opportunity for meaningful innovation to the payments ecosystem in the U.S. and across the globe. But what does this mean for businesses, and why should a company learn the new language?
The world is becoming more interconnected, which introduces challenges due to the many languages payment systems speak today. To meet the demands of a complex payments industry in the global economy, corporates, banks and ERPs need a common language to keep dialogue open, fluid and translation-free. ISO 20022 is set to become that lingua franca or universal language in the payments ecosystem.
What is ISO 20022?
A common standard used for payments and reporting that can be leveraged by corporates, banks and clearing channels globally.
It uses XML syntax and offers structured, rich data.
With its structured and dedicated fields for payment details, the formatting standard creates communication efficiency.
Rather than managing multiple regional and in-country systems that speak different languages, ISO 20022 offers a universal messaging language.
Why are standards important?
Traditionally, each country has maintained its own payment and information reporting standards and requirements. This has significantly limited interoperability for cross-border commerce.
For corporates, that has meant developing and supporting multiple formats for domestic and international payments. Multiple standards create friction. Introducing ISO 20022 as the standard throughout the payments ecosystem will reduce compliance holds and offer better straight-through processing rates and enhanced data for reconciling.
Why is corporate adoption important?
Many companies wonder — how will we benefit from ISO 20022? Isn't it just something that applies to Europe? You should know that ISO 20022 currently exists alongside legacy formats such as EDI, BAI, Swift MT payment and account information, Fedwire and CHIPS. Over the next few years, it will replace several of them as the payments industry converges to a single standard.
ISO 20022 provides much richer payment data, enabling businesses to improve reconciliations, consolidate transactions and achieve efficiencies.
There is one standard ISO language for all banks in the United States, Europe, Asia-Pacific, Africa, Latin America and beyond.
Once coupled with Swift or ISO-enabled third-party service providers, companies can achieve a single connection with their financial partners around the globe.
Ultimately, banks and ERP/TMS providers are all looking at new ways to leverage ISO standards to open new worlds of possibilities. The benefits of ISO 20022 accrue when everyone is on board. Additionally, Swift MT messages for cross-border international payments are scheduled to end in 2025 for financial institutions.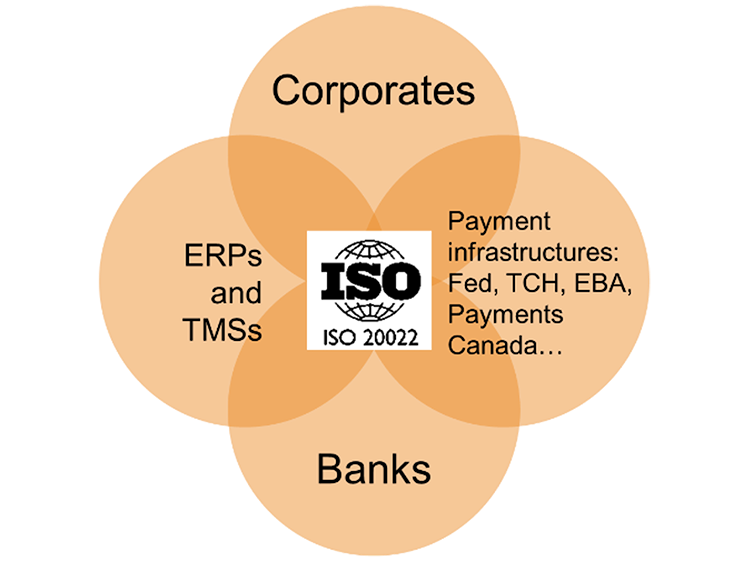 Hear from Najeem Dayisi of Delta Air Lines at AFP 2023 in San Diego to learn how Delta Air Lines undertook a multi-year journey to transform their payments business worldwide to the ISO 20022 standard. Hear how they streamlined payments, eliminated country- and bank-specific messaging standards and improved efficiencies by speaking ISO 20022. Lastly, learn why other corporates should care and how they could benefit from ISO 20022. Hear Kevin O'Neil from Swift discuss the new ISO standards and industry initiatives.
Our session will show you how these moves benefit corporates sending international and local country payments. So, no matter if your company is fluent in ISO 20022 or you're wondering if you should consider speaking the new language, this session has something for you.
Session: Speaking the New Language of Payments: Delta Air Lines on ISO 20022
Date: October 24, 2023, at 8:30 AM PST
Panelists:
Najeem Dayisi, Director, Global Payments Strategy and Treasury Technologies, Delta Air Lines
Kevin O'Neil, NAM Account Director & Head of Canada, Swift
Moderated by: George Hoffman, Senior Vice President and Mgr. International Advisory, PNC Bank
Check out the full lineup of AFP 2023 sessions on the Session Explorer.