Sunday Keynote
John Cena
Actor| Producer | Entrepreneur | Author | Philanthropist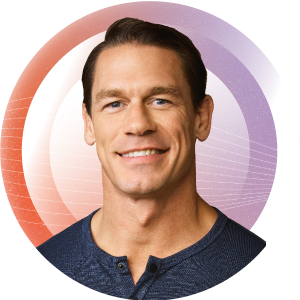 In Conversation with John Cena: Be A Work in Progress
John Cena attributes his success to remaining completely authentic and his never give up attitude, but his path to becoming who he is today was far from easy. From being bullied as a kid to having to sleep in his car, Cena never let his challenges define him. Achieving blockbuster success across multiple industries, Cena shares inspiring stories from his unique journey and how authenticity, positivity, hope and the drive to continually challenge himself has shaped his career.
John will be available for photos in the exhibit hall for a limited time after his keynote!
Bio
John Cena is an actor, producer, entrepreneur, author, philanthropist, and WWE Superstar. Cena has published multiple books including Do Your Best Everyday to do Your Best Everyday, a collection of inspirational quotes geared toward children, and Be a Work in Progress, a collection for adults. He is also the #1 New York Times best-selling author of the Elbow Grease picture books, a series inspired by the lessons he learned about hard work, perseverance, and teamwork from growing up with four brothers. He devotes much of his time and energy to working on behalf of charitable causes. He is the Make-A-Wish Foundation's most requested wish granter and the only celebrity to grant more than 600 wishes. Cena is a recipient of the USO-Metro's Legacy of Achievement Award and is a promoter of the FITOPS Foundation, which helps empower veterans through fitness and community.
---