Tuesday Keynote
Ian Bremmer
Political Scientist, President and Founder of Eurasia Group and GZERO Media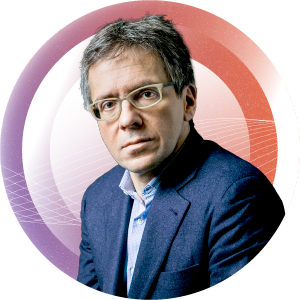 Understanding the Risks We Face in an Increasingly Unstable World
To successfully navigate global markets, business leaders must analyze economic risks when considering investments or market exposure. However, one must look beyond per-capita income or economic growth data in both the US and abroad, to objectively assess how geopolitical forces are creating risks and opportunities shaping markets in unexpected ways. Author and acclaimed geopolitical expert, Ian Bremmer covers today's top risks to make sense of a compounding polycrisis impacting organizations on the global stage. By blending political and economic risk analysis, this keynote provides treasury and finance professionals with the perspective to make savvier investment decisions and better prepare for the future.

For a sneak peek at Ian Bremmer's AFP 2023 Keynote, check out this podcast: Understanding the Geopolitical Risks We Face with Ian Bremmer.
Bio
Ian Bremmer is a political scientist who helps business leaders, policy makers, and the general public make sense of the world around them. He is president and founder of Eurasia Group, the world's leading political risk research and consulting firm, and GZERO Media, a company dedicated to providing intelligent and engaging coverage of international affairs. A prolific writer, Ian is the author of eleven books, including his latest New York Times bestseller, "The Power of Crisis: How Three Threats—and Our Response—Will Change the World". He serves as the foreign affairs columnist and editor at large for Time magazine, and is the host of GZERO World with Ian Bremmer, which airs weekly on US national public television. Ian is also a frequent guest on CNN, Fox News, MSNBC, and many others globally. Ian also teaches at Columbia University's School of International and Public Affairs and he can be found on Facebook, LinkedIn, Instagram, and Twitter.
---