Content for Executives

---
Engage with elevated sessions, speakers, and networking built for executives.
The Executive Institute is sponsored by:

The Executive Institute is limited to corporate practitioners with the title of treasurer, chief financial officer, vice president of finance, assistant treasurer or controller.
---
Keynotes
Monday Keynote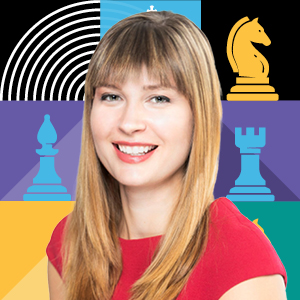 Chloe Demrovsky
President & CEO
Disaster Recovery Institute International

Tactical Insight: Re-evaluating the Risk and Resilience Status Quo
Gaining a better understanding of the future trends in risk and resilience is critical for treasury and finance executives to navigate risks facing their organizations. Leveraging key findings from Disaster Recovery Institute (DRI) research, Chloe Demrovsky reviews the decisions leaders must make in a post-Covid world and provides tactical insight on how to strengthen and improve enterprise-wide business continuity practices to address various risks such as supply chain and cybersecurity. Additionally, Demrovsky discusses how leaders must be prepared to partner with their boards on developing risk management strategies as recent events have underscored the need for both boards and management teams to reassess their approach to mitigate risk.

Chloe Demrovsky is the President and CEO of Disaster Recovery Institute International. Globally recognized as a thought leader, Demrovsky has been a commentator for CNBC, MSNBC, Fox News, BBC, The Financial Times, and USA Today. She has presented on global risk at events across five continents and has conducted on-site briefings for government officials, government bodies including the US Congress, the European Commission, and the United Nations. Demrovsky is also an adjunct professor at New York University, a Term Member of the Council on Foreign Relations, a US-Japan Foundation Scott M. Johnson Fellow, and a French-American Foundation 2019-20 Young Leader.

Tuesday Keynote

April Rinne
Founder & Chief Change Navigator
April Worldwide

Flux: Thriving in Constant Change and Uncertainty
Flux Mindset is a concept April Rinne developed for thriving in a world of constant change. She takes treasury and finance leaders on a journey through what a flux mindset is, why it matters, and how to get one. Drawing on her personal and professional experiences with flux, Rinne shares her unconventional and often counter-intuitive strategies for how to think, learn, work, live, and lead better by slowing down enough to get clear on what really matters. Attendees walk-away strategies to better prepare for the unknown and become more resilient by rethinking uncertainty and getting comfortable with ambiguity.

April Rinne is a World Economic Forum Young Global Leader, one of Forbes' 50 Leading Female Futurists who has the uncanny ability to identify and understand the potential of trends early. Rinne spent the first half of her career focused on global development and financial inclusion. When the digital economy began to take root, Rinne shifted her focus to how new platforms could help build more inclusive business and more robust opportunities for income generation. The second half of her career has focused on how this "new" economy and the future of work will play out worldwide, advising numerous startups, established companies, governments, policy makers, financial institutions, educational institutions, think tanks and others along the way.

---
Sessions for Executives
Payments Innovation: Transformation as a Change Agent to Enable Growth
Executive Institute Session
Customers demand seamless end-to-end services and expect payment systems to achieve this without sacrificing trust and stability. This session takes attendees on a journey- to discover what is happening in the payments landscape all the way to a blueprint to adoption to enable growth. Speakers cover the current landscape, emerging themes, new payment rails and payment distinctions per region. Also discussed are the challenges to adoption, building a business case, relevance to Treasury Leadership as an effective internal collaborator and what the plan for adoption might entail from a technology, staffing and mindset approach.
Putting the "S" in ESG
Executive Institute Session
In May 2021, Amazon issued $18.5B in bonds that included two firsts: its first sustainability bond, and the first time any corporate issuer built an enhanced diversity, equity and inclusion (DEI) coordinator role into a single-day bond issuance. Join this session to hear tips and ideas, learn best practices for building an impactful DEI initiative by actively supporting and partnering with minority- and mission-led firms, integrating them into your commercial paper, investments and debt capital markets activities.
Treasury Under Private Equity: What's Different?
Executive Institute Session
For companies either recently acquired by Private Equity or have been for a while, the unique challenges of operating Treasury with a financial parent can be opportunities for growth and rewarding at the same time. The goal is to eventually sell the company or spin off into an IPO but the timing of the endpoint isn't always clear. Managing through bank relationships, Capital markets, and back-office operations has its own set of unique circumstances as well as staffing needs. Come and listen to this panel of Senior Treasury Professionals discuss their journey under PE ownership and what you can learn in different approaches to managing Treasury Departments.
Demystifying Hedge Accounting
Developing and Integrating ESG into Corporate Financing
Diversity and Inclusion: Dare to be Different
Emerging Cyber Risks Financial Lessons from the Fast Lane
In-house Bank: Unleashing its Full Potential
Managing the Structure of Distributed Finance
Modernizing Liquidity and Investments for a Resilient Treasury
Succession Planning for the Future of Treasury with Gen Z and Millennials
Treasurers' Experience Selecting and Implementing a TMS
Treasury: Now a Frontline Business Enabler
What Treasurers Need to Know and Do for the Future of Cyber/Privacy Law, Cybersecurity, and Cyber Insurance
---
Executive Roundtables
Monday, October 24 | 8:30–9:30 AM
Traversing the Treasury Technology Ecosystem
The Treasury Technology landscape has evolved to include several dominant players in the space along with some new up and coming niche players. With multiple options from which to choose it can be difficult to identify and select the right solution for your treasury. This discussion focuses on scoping the need for new technology, establishing a strong business case, using bank portals as well as the role of senior management in successful implementation.
Tuesday, October 25 | 1:45–3:00 PM
Credit Analysis & Risk Mitigation Strategies
The analytical skillset a treasury professional holds is well suited for taking on the task of credit analysis especially as treasury seeks to strengthen alliances with their business units. With the transition from Libor to global reference rates participants also cover what companies are doing around the transition. This is a facilitated discussion of credit analysis through the lenses of accounts receivable/ customer reviews, vendor analysis, and intercompany activity. Attendees have the opportunity to share their best practices and lessons learned around prudent credit analysis at their company.
Tuesday's Executive Roundtable is sponsored by Fitch Ratings.