Accessing the Exhibitor Portal
Please find a detailed overview of how to access the portal below:
1. Click the following hyperlink to access the EXHIBITOR PORTAL where you will log in using your email address and password.
2. Once you have successfully logged in to the portal you will see a full list of your available Exhibit Show(s) either:
a. In-person – AFP 2021 Washington D.C. and/or
b. Virtually – AFP 2021 Virtual
i. If you are Exhibiting both in person and virtually you will use the 'Manage Exhibit Show' button on the right-hand side of the registration dashboard page to toggle back and forth between shows. Screenshots provided below for your reference. Please ensure that you assign the correct representatives under the correct show (ie. Representatives that will be attending the conference in person under the Washington DC Exhibit show and/or your representatives that will be attending the conference virtually under the Virtual Exhibit show).
---
Exhibit Show Listing

---
In-Person Registration Dashboard – Washington D.C.
MUST UPLOAD LOGO WITHIN THIS EXHIBIT SHOW ONLY
MUST EDIT/UPDATE COMPANY PROFILE INFORMATION WITHIN THIS EXHIBIT SHOW ONLY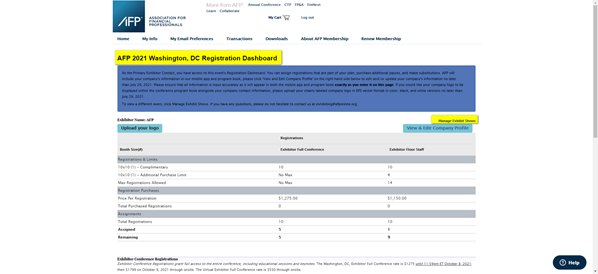 ---
Virtual Registration Dashboard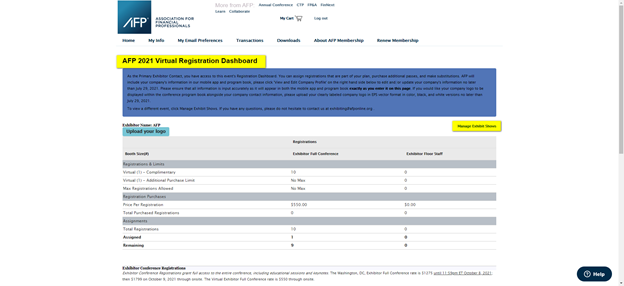 3. Once you gain access to your dashboard through the online exhibitor portal, you will be able to assign the complimentary registrations that come with your booth via the blue 'Assign' button and purchase additional registration passes (as needed). Just as a note purchased passes are non-refundable.
TO PURCHASE ADDITIONAL REGISTRATION PASSES through the online exhibitor portal, take inventory of how many you need because these purchases are non-refundable. Please follow these instructions:
1. The primary booth contact must first assign the complimentary registrations that come with the booth to colleagues until there are no longer anymore left to assign.
2. Purchase the registration. During the checkout process, make sure to enter the email address of the person who needs to receive a receipt which will have the name and address of the primary booth contact on the receipt—not the information of the person for whom the pass is being purchased. This is a blank registration slot that needs to be assigned.
3. Assign the blank registration pass that was just purchased to one of your colleagues by searching for his/her name. Follow the instructions/prompts.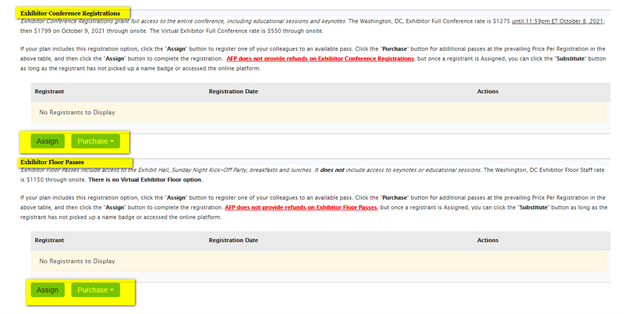 4. Once you have successfully assigned a representative under the appropriate Exhibit Show they will be listed along with the date you registered them creating a comprehensive list of all those currently registered under your org within the dashboard. They will immediately receive a confirmation email letting them know you have registered them. Within 24 hours they will receive an additional follow-up confirmation email further detailing what show (in-person vs. virtual – if applicable) they were registered.
After you successfully register an individual – they will be listed as follows:

---
Immediate Confirmation Email Sample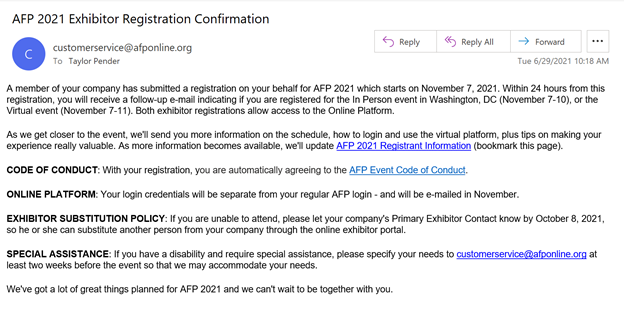 24 Hour Secondary Confirmation Email Sample

If you are having trouble logging in or need assistance, please email at [email protected] and a member of our Exhibiting team will contact you.