All Speakers
Tony Hawk
Sunday Keynote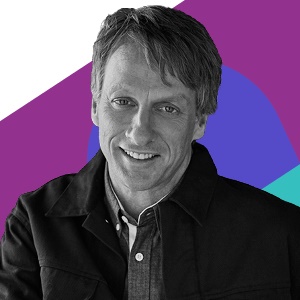 Authenticity Above All Else
In the world of skateboarding, nothing is held in higher esteem than authenticity. Subsequently, treasury and finance practitioners must maintain their own authenticity and commitment to life-long learning and professional growth to ensure they remain the trusted advisors their organizations need them to be. So, how does skateboarding's most famous personality balance the line between authenticity and "selling out?" Tony Hawk walks the walk every day as he continues to be the face of the sport he loves, while managing his business empire and award-winning charitable foundation. Learn how he has embraced his own gut sense of doing things authentically while remaining true to what has led to his overwhelming success.
Bio
Skateboarding Legend, Entrepreneur, Philanthropist
Tony Hawk was nine years old when his brother changed his life by giving him a blue fiberglass Bahne skateboard. By fourteen he'd turned pro, and by sixteen he was widely considered the best skateboarder on earth. Today, his business skills have helped create the Tony Hawk brand that includes a billion-dollar video game franchise, successful businesses such as Birdhouse Skateboards, Hawk Clothing, and the Tony Hawk Signature Series sporting goods and toys. The Tony Hawk Foundation helps to finance public skateparks in low-income areas and has awarded over $10 million to 623 skatepark projects in all 50 states, serving more than 6 million visitors annually.
Check out the preview of Tony Hawk's keynote below in the AFP Conversations podcast.
Authenticity Above All Else